When transporting products, we must ensure their proper protection.

It is important that they are kept in the right position throughout the journey.

Often, especially when transporting or storing food, it is necessary to use a solution that will provide ideal storage conditions and allow the products to breathe.

To achieve the above goals, it is worth choosing a palletizing net for our production.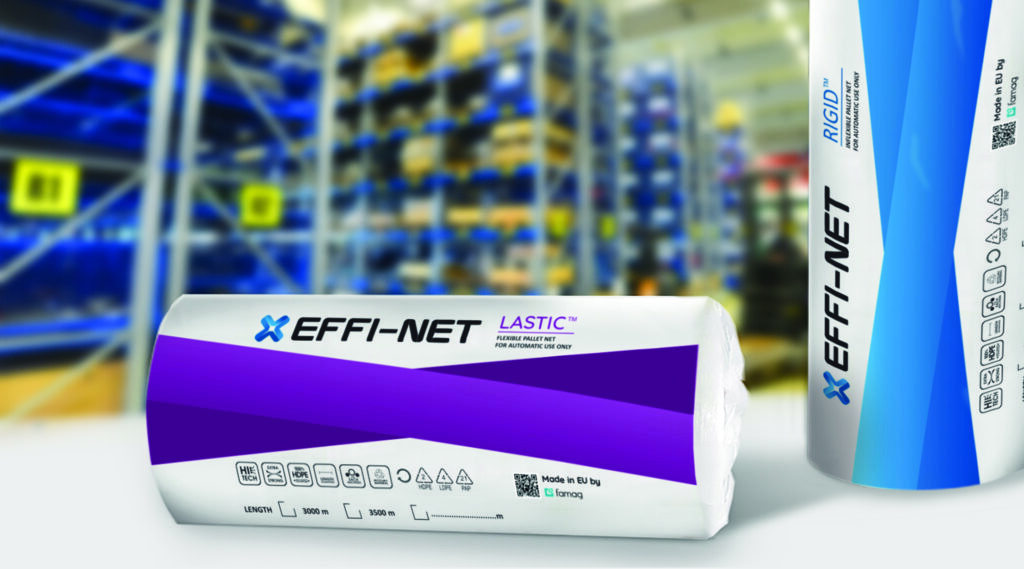 EFFI-NET has no equal

Many years of research, work on improving the manufactured products and the experience of our technologists have allowed us to create the strongest palletizing net.
Due to reliability and efficiency, the EFFI-NET brand was created, the best net available on the market for securing transported and stored products.
EFFI – efficient. This is the palletizing net for our production. Almost invisible, but plays a vital role. The advanced composition of raw materials allows us to create the highest quality product with the lowest grammage.
What distinguishes this palletizing net?
EFFI-NET combines the highest quality raw materials, advanced technology and a unique production process. These are dozens of thin fibers that, when combined, form the strongest palletizing net. It is a technologically advanced product that provides the best performance.
The Famag offer includes a very durable inelastic net and a flexible palletizing net. Our assortment is intended for manual and machine packing. We listen to the needs of our partners, so in addition to standard sizes, we can create a product for specific requirements.
Why is it worth using a pallet net?
Unlike stretch films, the pallet net allows air circulation of the goods placed on the pallet. This is extremely important mainly for products with a high water content, such as fruit and vegetables.
The EFFI-WOOD mesh is perfect for packing firewood, which will be perfectly dry.
What is the palletizing net made of?
EFFI-NET is made of the best quality HDPE foil, which is fully recyclable. For the production of the net for palletizing, we only use raw materials approved for contact with food. The BRCGS certificate is a guarantee of safety and the highest production diligence.
Additionally, Famag is the only Polish manufacturer that offers a color palletizing net that will distinguish your product.
Summary
Your products deserve the best protection. EFF-NET is a product with which 100% of recipients are satisfied. Join this group and choose a net that will not disappoint you.